Hi.
Yes, Aradi Istvánné is an administrator account and there is an other administrator: Kriszti.
OK it is not a ideal situation from both a security and practical point of view to have two admin' accounts on a system. My advice would be to either remove the other account completely and or at the very least change its status to a Limited Account only.
If not sure how to do so merely inform myself and I will provide instructions how to etc.
Otherwise I can check hard disk for errors from my computer - C drive - attributes after a reboot. It will be good or not?
Aye we can do this shortly but with further maintenance included. Just follow my instructions below thank you.
Next:
Re-run
TFC(Temp File Cleaner)
again please as outlined
here
.
Hard-Drive Maintenance/Repair:
Note: for the CHKDSK portion you may refer to this tutorial of mine
here
and follow the instructions for Graphical Mode if you so wish.
Click

Start

>>

Run...

then type in

CMD

and click on

OK

.
At the Command Prompt

C:\ >

type the following:

CD C:\

and hit the Enter/Return key.
Now type in

DEFRAG C: -F

A Analysis report will be displayed and then Windows will start the Defragmention run automatically.
This may take some time, when completed the Command Prompt

C:\ >

will appear.
Now type in

CHKDSK C: /R

and hit the Enter/Return key.
When prompted with:
CHKDSK cannot run because the volume is in use by another process
Would you like to schedule this volume to be checked next time the system
restarts (Y/N)
Hit the

Y

key then at the Command Prompt

C:\ >

Type in

EXIT

and and hit the Enter/Return key.
Now Reboot(Restart) your computer.
Note:
Upon Reboot(Restart) the CHKDSK(check-disk) will start and carry out the repairs required.
You should see a screen like this just after the Post(power on self test) screen: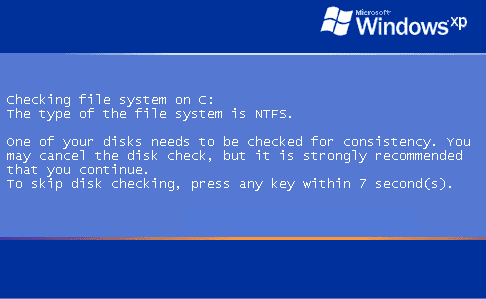 Note:
Do not touch either the keyboard or Mouse, otherwise the Check-Disk will be canceled and you computer will continue to boot-up as normal.
ESET Online Scanner:
Note:
You can use either Internet Explorer or Mozilla FireFox for this scan. You will however need to disable your current installed Anti-Virus, how to do so can be read
here
.
Please go here then click on:


Note:

If using Mozilla Firefox you will need to download

esetsmartinstaller_enu.exe

when prompted then double click on it to install.

All of the below instructions are compatible with either Internet Explorer or Mozilla FireFox.

Select the option

YES, I accept the Terms of Use

then click on:
When prompted allow the

Add-On/Active X

to install.
Make sure that the option

Remove found threats

is

NOT

checked, and the option

Scan archives

is checked.
Now click on

Advanced Settings

and select the following:
Scan for potentially unwanted applications




Scan for potentially unsafe applications

Enable Anti-Stealth Technology

Now click on:
The

virus signature database...

will begin to download. Be patient this make take some time depending on the speed of your Internet Connection.
When completed the

Online Scan

will begin automatically.

Do no

t touch either the Mouse or keyboard during the scan otherwise it may stall.
When completed select

Uninstall application on close

if you so wish,

make sure you copy the logfile first!

Now click on:
Use notepad to open the logfile located at

C:\Program Files\ESET\EsetOnlineScanner\log.txt

.
Copy and paste that log as a reply to this topic.
Note:
Do not forget to re-enable your Anti-Virus application after running the above scan!
When completed the above, please post back the following:
How is you computer performing now? Any problems encountered and or any further symptoms?
ESET Log.
A new RSIT Log.