Hi Bob
Disinfect USB Drive:
Note:
This means your thumb drive OK.
Please download
Flash_Disinfector
and save it to the desktop.
Double click on

Flash_Disinfector

click to run it.
You will be prompted to plug in your flash/usb drive. Plug it in.
Flash_Disinfector will start disinfecting your flash and hard drives. This takes a few seconds. Your desktop will disappear in the meantime.
When done, a message box will appear. Click

OK

. Your desktop should now appear. If it doesn't, press

Ctrl + Shift + Esc

to open Task Manager.
Click on

File

>

New Task (Run...)

. Type in

explorer.exe

and press Enter. Your desktop should now appear.
Hard-Drive Maintenance/Repair:
Note:
for the CHKDSK portion you may refer to this tutorial of mine
here
and follow the instructions for Graphical Mode if you so wish.
Click

Start

>>

Run...

then type in

CMD

and click on

OK

.
At the Command Prompt

C:\ >

type the following:
CD C:\ and hit the Enter/Return key.
Now type in

DEFRAG C: -F

A Analysis report will be displayed and then Windows will start the Defragmention run automatically.
This may take some time, when completed the Command Promtp

C:\ >

will appear.
Now type in

CHKDSK C: /R

and hit the Enter/Return key.
When prompted with:
CHKDSK cannot run because the volumne is in use by another process
Would you like to schedule this volume to be checked next time the system
restarts (Y/N)
Hit the Y key then at the Command Prompt

C:\ >

Type in

EXIT

and and hit the Enter/Return key.
Now Reboot(Restart) your computer.
Note:
Upon Reboot(Restart) the CHKDSK(check-disk) will start and carry out the repairs required.
You should see a screen like this just after the Post(power on self test) screen: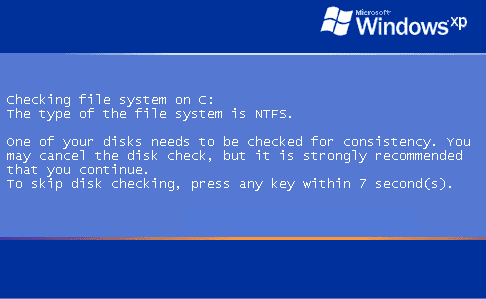 Note:
Do not touch either the keyboard or Mouse, otherwise the Check-Disk will be canceled and you computer will continue to boot-up as normal.
When completed the above, please post back the following in the order asked for:
How is you computer performing now, any problems encountered and or symptoms ?
A new HijackThis Log.